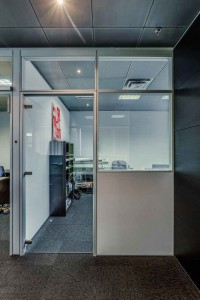 For large businesses, office space represents their second highest single expense. According space audits, the average office has shrunk by as much as 15% and will continue to evolve as worker technologies and telecommuting reduce the actual real estate useable. Occupancy surveys show that people need smaller spaces for concentrated work for shorter periods of time while meeting spaces are evolving as the new office standard for getting work done. The flexibility of the space as technology changes rapidly is the goal. Modular walls are yet another component in the productivity picture which can help mitigate the financial hit associated with churn.
Typical Causes of Churn
A simple definition of 'churn rate' is the number of employees you lost in a given period divided by the number of employees you started with the same period. The churn rate in Canada is varies from year to year but averages 33 percent meaning that the average employee base can completely change every 3 years. As rapid technology change occur daily, the only thing that we can absolutely be sure of is that the office environment will need to change right along with it. A Modular wall system that is quickly accessible and reconfigurable will help lessen the disruption to how the business functions.
There are a lot of factors that drive churn including but not limited to:
Technology innovations
Mobile workforce
Mergers and acquisitions
Restructuring
Downsizing
Retirements
Shift in business practices
Strategic relocations
Churn out Savings with Movable Walls
Whatever the driving force, churn can physically changes business dynamics and the office needs to adapt. Space needs expand and contract depending on who's inhabiting them, outdated technologies are replaced and workgroups come and go. Anything that can be automated can and has been replaced with technology. People can work anywhere and often headphones replace the need for panels or offices – office hierarchy as we knew it years ago has disappeared.
In the past, businesses saddled with traditional drywall configurations often had to shoulder enormous construction costs related to churn as walls needed to be demolished, replaced or rebuilt. In addition, whole swaths of expensive office real estate had to be taken out of commission during construction. With movable walls, these build costs are mitigated because reconfigurations can be handled off hours by regular maintenance staff using your existing components.
Modular wall systems make adjusting your space to new business realities a breeze. Planning costs are drastically reduced, installation costs are minimized and the myriad distractions that accompany construction projects are eliminated. Movable partition walls don't damage carpeting, ceilings or perimeter walls so there is no need to replace or repair those components in the wake of a reconfiguration reducing costs further.
The High Cost of Disposal
Other churn associated costs with traditional construction are disposal costs. Demolition of an office using traditional techniques generates enormous amounts of waste that must be carted off-site and disposed of in landfills. Each tonne of construction debris generated costs a company over $100 in fees alone. Construction labour to remove the materials and clean the site are increasing yearly. Add the amount of sick days attributed to dust related breathing issues and the effect on productivity make a modular wall system increasingly cost effective.
Financial Advantages of Movable Wall Systems
Traditional drywall construction is depreciated over 39 years. By contrast, movable walls are deemed furniture reducing its depreciable value to 7 years – a significant tax benefit. Costs are recovered quickly thereby freeing up resources for core business pursuits. New tax incentives for companies to generate energy sales in their capital improvement budgets where modular wall systems are used are particularly adept.
For building owners, when tenants know a space is built out using the right modular wall systems, they're more likely to sign a long term lease. They know they'll be able to easily reconfigure the space with this durable solution in the future should they need to. IMT's modular walls can adapt to changes in technology without special tools and can be "refreshed" in a matter of minutes to suit the latest design aesthetics required.
The Bottom Line
In the past, change was resisted because the high cost of churn was prohibited. The business and the staff had to adjust to the premises not able to afford to have the premises adjust to their needs. Many of the negative financial effects of churn have been neutralized through the savings available to any company that utilizes modular wall technology to build out their space.
While a movable wall system will help you deal with churn site issues, their real value is measured in the savings they deliver throughout their life cycle:
Energy – open up your floor plate to ever greater amounts of natural light.
Cleaning/Maintenance – wipe when needed – no dusting.
Technological upgrades – easy access panels for voice, data and power cables
Less absenteeism – allergens are eliminated
Labour – lower labour costs due to ease of reconfiguration.
Employee Retention – offices comprised of modular wall systems can ramp up the aesthetics of any space. Branding and quick updates allow managers to engage employees with innovation and creativity.
Don't live in the past building your office using drywall or other traditional methods. Embrace both the short/long term savings inherent in modular wall systems from IMT Modular.
We've been helping companies come to terms with the changing business environment for more than 15 years.
Call us today to learn more about how modular wall systems can help you find the path to greater flexibility and profitability.