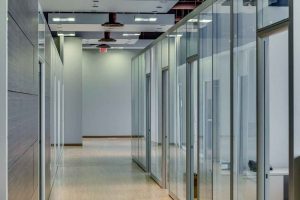 If you're looking for a way to create a dynamic office space that embraces openness and still respects privacy glass partition walls are the way to go. Glass partitions provide almost unlimited design flexibility and can be customized according to the needs of your business and the people who populate your office. That glass partitions are stylish is beyond question. The clean, compelling and energetic air they lend your office will enhance your company's public profile while also giving your staff a beautiful, comfortable and healthy place in which to work.
Designing with Glass Partition Walls
There are a number of ways by which glass partitions will help you improve your office environment. They include:
Increased Functionality – Glass partitions are more than just a way to open up space. Because they're adjustable they also allow you to shape your space to fit whatever your need. For instance; you may need to bring several small offices together to form a larger space for a new work group or you may need to carve a large meeting room out of smaller spaces to accommodate a product demo. Whatever you need you can achieve it with glass partitions.
Improved Aesthetics – As we mentioned above the stylish qualities of glass partition walls from IMT Modular are beyond question. You have your choice of frameless clear glass walls that provide an ethereal look and allow for maximum penetration of natural light or frosted panels that allow light to penetrate but allow for the creation of private zones. You can choose free standing, individual panels that denote space without creating barriers to the movement of people and air or you may want to introduce some tinted panels as well.
A Healthier Workplace – Studies prove that people respond better to natural light than artificial light. Their mood is typically more upbeat and they're more productive when their workspace is awash in sunshine rather than the antiseptic glare of the fluorescent light. By installing glass partitions you'll also create longer, more compelling sightlines within the office and even people at the center of the floorplan will have a chance to see all the way to a window. All that natural light also makes your office the perfect environment for plant life, which makes the space more welcoming and helps keep the air fresh and clean.
A More Efficient Workspace – Movable partition walls have a proven ability to enhance airflow within an office, meaning no more pockets of dead air like you find in cubicle farms. You can also expect lower heating and air conditioning bills as the HVAC system doesn't need to work as hard to circulate air. All the natural light flooding the office also negates the need for those banks of recessed fluorescent lights that had become such a mainstay of the contemporary office environment.
Dynamic Design Doesn't End With Glass Partitions
Another thing to consider when choosing to design your office around glass partition walls is the type of doors you'll want to install within those walls. Side mounted swinging doors are everyone's default choice but they are not always the best choice to use with glass partitions. There are times when you will want to use our beautiful and discreet sliding doors. But how do you know which is right for your office?
Consideration #1: Aesthetics – If you've spent a lot of time working closely with the office design expert to find the most aesthetically pleasing as well as appropriate type of glass partition walls to use in your office you don't want to undermine your new look by choosing the wrong type of doors. As mentioned above you never want a swinging door to open into a traffic lane. Also if you're going for an ultra-sleek look to your office you'll likely want to stick to sliding doors but beware: sliding doors too require space to open: because the wall along which the door will slide when opened needs to be as long as the door is wide and completely free of obstructions. If the door opens into a narrow space installing a sliding door may not be practical then and in all likelihood wouldn't look so great either.
Consideration #2: Space – The typical hinge mounted swinging door requires at least 18 – 24" of clearance. The more the better. In addition swinging doors should never open into traffic lanes meaning they need to open into the room and all the area behind the door must be set aside to accommodate them. If you have a couple of dozen hinge mounted doors in your office the amount of floorspace set aside just to accommodate them as they swing open could be 100 square feet or more. And how much are you paying for that 100 square feet of office space? Something to consider.
Consideration #3: Accessibility – Handicapped access is one of the great success stories of modern architecture. Modern offices too typically integrate handicapped access into their design making the workplace safe and welcoming for all manner of differently abled staff. One area where accessibility is still sometimes an issue though is office doors. Hinged doors can be difficult for someone in a wheelchair to pull open and navigate past. Sliding doors by comparison are relatively easy to open and you don't have to worry about them swinging back and hitting you on the way through.
Final Thoughts
The office of 2017 is a dynamic, engaging, compelling stage where staff are able to be their best and efficiency and style walk hand in hand. Glass partition walls will help you get the most from your office by reducing your utility bills, fostering teamwork and presenting a leading edge corporate profile to the world. If you are weighing options for renovating an existing, or building out a new, office space for your company talk to the office design experts at IMT Modular. We've helped scores of companies embrace a more profitable future with glass partitions and we can do the same for you.