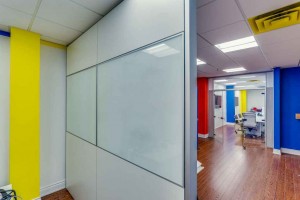 Many businesses were slow to get on the modular bandwagon. To a degree it was understandable since the smart business owner waits to see if a new technology will pan out before investing in it. Now that modular walls have proven their immense worth however, interest in them has been steadily growing and they're now accepted as perhaps the smartest investment you can make when building out a new office or renovating an existing one. Nonetheless, there are a number of myths still circulating about modular wall systems (no doubt left over from a time when they were considered 'experimental') and in this post we're going to debunk 4 of the most pervasive and stubborn.
Modular Wall Systems: Separating Fact from Fiction
While the trial period for modular wall system technology has long since passed there are still some reluctant to embrace them. Often, that reluctance can be traced to one or more persistent myths still circulating about modular walls. Below are 4 of those myths.
They're prohibitively expensive: That's the only word for this myth. While it may cost a bit more to build out your office initially using modular walls any extra expense will be quickly recouped via lower energy bills and higher productivity. Not only that but next time you want to reconfigure the office you won't have to call in a construction company and endure a very expensive month or two of disruptions. Just have your regular maintenance staff reshape the office to your liking overnight. And oh yeah; they'll last for decades.
They'll be out of fashion before you finish setting them up: It's still popular in some circles (mostly the drywall industry) to claim that modular walls are 'trendy' and that they'll have gone out of fashion even before you finish installing them. The fact is modular walls from IMT exhibit state of the art design that eschews the trendy in favour of the timeless. It's said that "style is always in fashion". And our modular walls are as stylish as they come.
You need to hire professionals to move them: While you'll want guidance from the pros at IMT Modular for the initial installation of your modular wall systems the actual work can be handled by your regular maintenance staff. The same goes for subsequent reconfiguring. You'll save a ton of money every time you remodel the office; which is something you'll now be able to do whenever you feel the need.
They're only good for huge offices: Not sure where this one comes from but it's just not so. Modular walls from IMT Modular will adapt to any size office from the huge to the humble. Our movable wall systems embrace interior design truths that help you maximize your use of floor space whether you have 100 square meters or 1,000 or more. We've helped companies of every size get more from their space and we can do the same for you.
Modular wall systems represent a revolution in commercial interior design because, for the first time since the advent of the modern office, they give total control of the space to the business owner. You're no longer stuck with trying to make do with immovable, opaque walls that may have made sense at one time but are now just in the way. As your plans change your office can now change.
Whether you need to accommodate additional staff or create a function room on short notice it's all possible with modular wall systems from IMT Modular. Give us a call today to learn more about how we can help turn your moribund office in a growth engine.