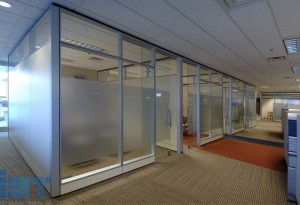 Most companies that utilize modular office dividers in their corporate headquarters do not consider future maintenance requirements when they first acquire their partitions but with a little advance planning, you can make the life of your cleaning and maintenance team much easier. You could also save a significant sum of money over the time that you are using dividers to organize your workspace. The first thing you should bear in mind is that high-quality panels are generally easier to maintain and will last much longer than their cheaper counterparts. For this reason alone, it is always worth paying a little extra for a top-quality modular system made by a reputable company such as IMT, rather than taking a chance on inferior products made by unknown companies. For further tips on how to ensure that your demountable walls remain in excellent condition, please see below.
Maintaining Your Office Wall Partitions in Tip-Top Condition
Pay heed to the following suggestions and you can make sure that your dividers look as good in ten years' time as they do on the day they are first installed.
Purchase – As mentioned above, the very first, and often the most important, step you can take to ensure that you are able to maintain your partitions in good condition is to invest in the best system possible at the very start. Some companies attempt to save money by buying cheaper dividers and end up paying far more in the long run as they find that no amount of careful maintenance will keep their walls from falling apart within a relatively short space of time. Make the right choice when you first acquire a demountable office wall system and you will find that your partitions require very little attention to keep them looking good and functioning as intended.
Installation – The next most important step you can take to ensure that your office wall partitions remain in excellent working order is to have them installed by a team of fully experienced and qualified professionals. While your own in-house technicians may be more than capable of reconfiguring the layout of your dividers as and when necessary, the initial installation of a new system is always best handled by experienced pros, preferably a team that has been trained by the manufacturer of the dividers in question. The safest approach is to work with a company that sends their own installation teams to clients' sites, such as ourselves.
Reconfiguration – Every time that you move your partitions, you should make sure that they are handled with care. While good quality dividers will not disintegrate at the slightest touch, hard knocks will inevitably take their toll over time so the more care that is taken when they are moved, the longer they will stay in serviceable condition. If your maintenance team is not 100% sure how to remove and reinstall your office wall partitions in new positions, call the manufacturer or supplier and ask for clarification before changing the existing layout.
Storage – A lot of the damage sustained by demountable wall panels occurs due to improper storage. If you do not need some or all of your partitions for a period of time, make sure that your building maintenance team use common sense when putting them into storage. Do not store them in damp or wet areas, or in places where they are likely to be exposed to extremes of temperature. Furthermore, it is best to store them vertically, in a row, rather than to stack them on top of one another in a big pile. This is because the office wall partitions at the bottom of a large pile will have a great amount of weight bearing down on them, which could affect their structural integrity over time.
Cleaning – If most of your panels have a high-quality laminate finish, all you will need to do to keep them sparkling clean is to wipe them down occasionally with a damp cloth. For stubborn stains or sticky residues such as spilled drinks, use a mild detergent when first wiping them down then use clean water to rinse. If some of your panels are made from glass or feature glass panes, a tried and tested glass cleaning fluid is the best option whenever they need wiping down.
Repair – Occasionally, demountable wall panels may sustain a blow that damages their surface and when this happens, the best course of action is to have the affected panel or panels repaired at the earliest possible opportunity. The manufacturer of your office wall partitions should be able to provide a swift repair service but if not, you will need to find a local company that is capable of carrying out the necessary work. It may be tempting to simply leave any damaged panels in storage and have them fixed at a later date but such an approach invariably leads to the accumulation of a large stock of unusable partitions, which is of no use to any company.
Staff Awareness – If this is the first time that your company has used a demountable wall system to divide large, open plan offices into smaller spaces, it is a good idea to give each member of your workforce a short primer on what not to do with the panels once they have been installed. Most of what you tell them will be plain common sense but it is better to be safe than sorry. For obvious reasons, never place drinks on top of office wall partitions with electrical raceways; do not use strong adhesives to stick pictures or other objects onto laminate surfaces; and do not lean on dividers as if they were solid walls as they could bend, twist, or ultimately collapse.
If you need any more tips on how to keep your partitions looking good and how to avoid damaging them inadvertently, please do not think twice about calling us during business hours. We are always happy to help out if we can.