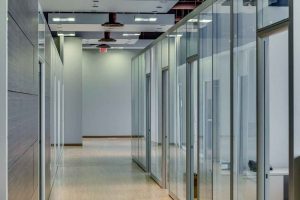 glassYou have a lot of choices when it comes to office partitions today. Different sizes, materials, looks and on so on are all in play, as is your choice of a unitized or non-unitized system. Perhaps the thing that draws most business owners to modular wall systems however is the chance to introduce glass, beautiful glass, to the office environment, thereby opening the space up to natural light with all the benefits that come with that. But not all situations call for clear glass partitions. Indeed frosted glass has certain benefits over clear glass that make it the smart choice for a variety of office applications.
5 Good Reasons for Choosing Frosted Glass Partitions
If your only choice when it came to office partitions was between opaque walls and clear glass you might have a hard time deciding which to use in some situations. Fortunately, frosted glass partitions allow you to have your design cake and eat it too. Here are 5 good reasons for choosing them for your next office buildout or remodel.
Openness (Having Your Cake): Frosted glass may be frosted but it's still glass. In that sense it will still let you maintain the openness that is the hallmark of the modern office. Natural light will still penetrate deep into the floorplate allowing you to reduce your dependence on artificial lights, thereby saving a boatload of money on your monthly utility bills.
Privacy (Eating it Too): But while frosted glass office partitions will allow for the free flow of natural light they'll also allow you to create the private spaces every company needs. Both our full panel and segmented glass wall partitions are available either frosted from floor to ceiling or frosted from knee to head: a feature that lets you to enjoy the best of both worlds.
Style: No matter what else frosted glass panels will do for privacy or your company's bottom line there is one benefit everyone can appreciate: they look fantastic. Walking from an office built using drywall into an office created using modular glass partitions is like walking from a fast food restaurant into a 5-Star restaurant on Queen St West. It demonstrates that, when it comes to commercial interior design, progress is still very much alive.
Durability: People tend to think of glass as being fragile and temporary. But glass office partitions from IMT Modular are anything but. Forged from tempered glass they'll stand up to whatever the office environment has in store for them. When drywall has long since yellowed and turned brittle your frosted glass office partitions will still look as good as the day you installed them.
Low maintenance: Another benefit of glass modular partitions from IMT Modular is the fact that they're virtually maintenance free. All you'll need to keep them looking great year after year is bit of glass cleaner and a soft clean cloth. And that's true no matter how many times you repurpose them or how many different configurations you choose.
Frosted glass office partitions make sense whether your company is large or small, high tech or low, swimming in cash or cutting it close to the bone. They're the kind of enhancement that enables many companies to stay competitive by helping them cut their utility and maintenance costs while enhancing their corporate image at the same time.
If you'd like to know more about what modular glass partitions can do for your office give IMT Modular a call on 416-743-4513 and talk to one of our friendly and knowledgeable associates. They'll give you all the information you need to decide if frosted glass office partitions are for you.